Lower Limb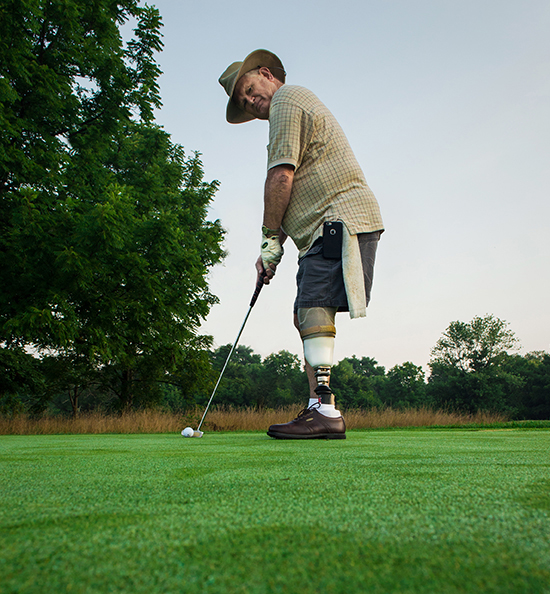 Our lower limb prosthetic experience includes all levels of limb loss and absence, including hemi-pelvectomy, hip disarticulation, transfemoral, knee disarticulation, transtibial, Symes, and partial foot applications.
Our lower limb prosthetic solutions include:
Mechanical and microprocessor-controlled knees
Hydraulic, microprocessor, and high-performance activity feet, vertical shock pylons, thermoplastics, carbon and basalt fiber laminations, and custom laminations
Advanced socket technology, including elevated vacuum suspension, suction socket, silicone suction suspension, and ischial containment socket.
High-definition restorations and prosthesis covers
Advanced technology products include (but are not limited to):
Harmony® System: Ottobock's Harmony® P3 vacuum system creates an optimal limb environment with an elevated vacuum between the liner and socket wall, promoting natural fluid exchange and a secure fit, plus internal and external rotation for easier maneuvering and shock absorption.
Unity® Vacuum System: Össur's Unity® Vacuum System offers the security and freedom of vacuum suspension but without the sensation and restrictions of a sleeve. It effectively addresses volume fluctuations and is totally compatible with Flex-Foot® technology. The Seal-In® liner technology is designed to conform to the residual limb, helping to distribute pressure evenly at the distal end, where volume fluctuations typically occur. The Unity is for above- and below-knee amputees, low active or high active, mechanical or microprocessor knee users.
Plié® Knee: Freedom Innovations' microprocessor-controlled Plié® Knee uses advanced algorithms to control stance and swing, and stumble recovery parameters. These parameters are customized for each user's unique gait pattern, providing confidence that stance resistance will be there over a broad spectrum of activities.
RHEO KNEE®: Össur's RHEO KNEE® is a microprocessors wing and stance knee system utilizing the power of artificial intelligence. Capable of independent thought, it learns how the user walks, recognizing and responding immediately to changes in speed, load, and terrain.
POWER KNEE™: The POWER KNEE™ from Össur replaces true muscle activity to bend and straighten the knee as required. Delivering powered extension when standing up, controlled resistance when descending, and active flexion and extension during walking, the POWER KNEE facilitates symmetrical weight distribution and natural gait.
C-Leg® 4: The C-Leg® 4 is Ottobock's most recent improvement to its original C-Leg, which debuted in 1997. Improvements include advanced stumble recovery, a control feature that improves the transition to swing phase and makes walking backwards safely possible, and precise adjustment at every moment of every step. Plus it's a weatherproof knee, meaning that it can be completely submerged in three feet of fresh water for up to 30 minutes.
Genium®: Ottobock's Genium® offers amputees natural, intuitive motion. Using multiple sensors and controllers, the Genium can read movement at 100 times a second. It closely mimics a natural gait, reducing the mental effort required of users when changing speed, walking up and down stairs, avoiding obstacles and walking backwards. The Genium can tell when the user is standing and automatically resists further flexing. This translates into being more relaxed while standing, saving energy and taking stress away from the sound side – even on inclines and uneven surfaces.
Symbionic Leg: Össur's Symbionic Leg combines a microprocessor knee and a powered, microprocessor ankle. It provides unmatched toe clearance for enhanced safety and enables transfemoral amputees to stably and confidently traverse terrain they might otherwise avoid, without gait deviations.
BiOM® Ankle: Microprocessor-controlled, the BiOM® from BionX is designed to replace the combined functions of the foot, ankle, and calf regions of the human leg. By mimicking muscles and tendons, the BiOM allows amputees to walk with a natural gait at their chosen speed, using the same metabolic energy as a non-amputee. Powered propulsion lifts and drives the user forward, smoothly transitioning weight to the active limb.
College Park Odyssey®: The College Park Odyssey® Series features a curved hydraulic ankle for superior knee stability and incredible ground contact. The curved hydraulic cylinder allows for one pivot point, resulting in a smoother sweep, longer life and the lowest profile hydraulic foot to date. Customizable dual StrideControl™ has independently adjustable plantar and dorsiflexion valves for in-office tuning. Two valves for adjustment provide ideal comfort and stability. College Park offers the Odyssey in two models – the K2 for the lower activity level amputee and the K3 for moderate impact users.
Pro-Flex®: Össur Pro-Flex is a prosthetic foot that uses complementing levers connected through pivots to create mechanically-powered push off. Combining 27 degrees of ankle motion and significantly greater ankle power than conventional carbon fiber feet, it closely mimics regular biomechanics, delivering a proven 11% reduction in load on the contralateral limb.
Proprio Foot™: Össur's Proprio Foot™ provides artificial proprioception – the sense of where the limb is in space. Patented artificial intelligence (AI) sorts out the information from the foot's sensor technology and activates the most appropriate response for the next step.
Össur Re-Flex Rotate™: Designed for the individual who walks aggressively or engages in activities that require some degree of rotation, such as swinging a tool or other appliance. The internal titanium coil spring of Re-Flex Rotate™ both reduces impact and enhances control and comfort during everyday activities.
Triton Feet: Ottobock's Triton family of feet has been especially developed for use with Genium® and C-Leg® microprocessor knees. Triton feet are suitable for all amputation levels and are recommended for people of any age with normal to high levels of activity. Its specially formed and split forefoot area adapts to uneven surfaces, helping to guarantee that the user's movements are controlled and there is a consistently high level of stability while walking and standing on uneven surfaces. It also provides excellent response when rapidly changing direction, such as during sports.


RUSH™ Foot: From Ability Dynamics, the RUSH™ Foot uses Flexeon™, a specially formulated, reinforced fiber-composite material that is nearly indestructible and three times more flexible than carbon fiber. This translates into fewer repairs, maintenance, and warranty claims. The RUSH Foot replicates the ankles flexibility and roll through motion to create a stride with no dead spot. Its proprietary sole plate is designed without an inherent arch, providing a continuous and rolling point of contact throughout the entire prosthetic step, for smooth, effortless movement. The RUSH can be used in all terrains and is 100% waterproof.
Silicone Restoration: Partial toes/feet can be made to look whole again with silicone restoration. Medical grade silicone is used because of its realistic texture, durability, and hypoallergenic properties. The restoration is customized to skin color, shape, and can include freckles, veins and hair. The design can also include a split between the big toe and the second toe to accommodate flip-flops. Silicone also improves proprioception via vibrations that travel through the silicone. This helps the amputee get a better feeling of where the limb is in relation to its space.